Tips for a Smooth Move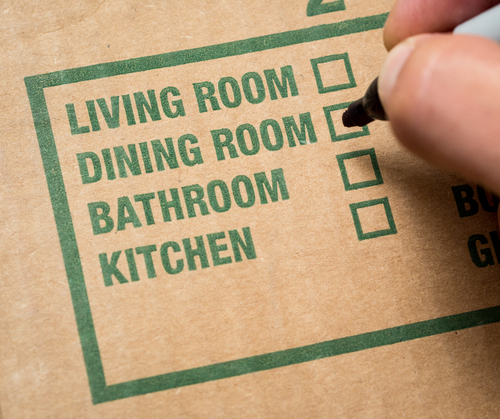 Last month we talked about tips for finding the perfect apartment, and we're following it up this month with some helpful tips for a smooth moving experience. Chances are you'll be moving several times throughout your life, perhaps across New York state or maybe across the country. In either case, learning how to pack and move is a good skill to have. Let's begin with what is helpful to have on-hand for packing.
Packing Supplies
Be sure you have the following before you start to move:
— Moving boxes
— Packing paper
— Moving blankets and tarps
— Mattress covers, furniture covers
— Stretch wraps
— Packing tape
Make a List
Make a list of your furniture and take note of where each piece will be placed in the new apartment. There are apps available that can help with that task. It may be helpful to create labels or use painters tape to note where the piece goes in the new apartment. Also note fragile items to help you plan packaging materials you will need.
Set Important Items Aside
There's nothing worse than needing a document, keys, medications, or other important items and not knowing where they are come moving day. As you pack, place these sorts of items in a clear tote in that is placed in a designated place. That way, you will have those items when you need them. Consider transporting sentimental, irreplaceable items personally.
It's also a good idea to pack a suitcase with clothes, toiletries, and electronics you will need for the first few days in your new apartment before everything is unpacked.
Use Appropriate Boxes for Items
When filling boxes, put heavier items on the bottom, topped by lighter items. Choose boxes appropriate for the item being packed. Use plenty of wrapping paper or newspaper for fragile or odd-shaped items. Be sure to label and securely tape the boxes. It may be worth getting boxes from a packing company to have uniform sizes. Stretch wrap is great for wrapping around dressers to keep the drawer shut or armoires to secure doors.
Loading the Moving Truck or Storage Pod
Place heavier items in first then build heavy to light in layer by layer. Use furniture as a foundation. Dressers, buffets, and tables all make a good base to hold smaller items in and prevent rolling. Protect your furniture with moving blankets (pick up some extra blankets at a thrift store to supplement the moving blankets). Put the items you will need first toward the back of the load. Adding box springs and mattress pads last is a good way to keep things in place. Use rope or straps to secure the load to decrease movement during transit.
If it's at all possible, we suggest loading and unloading on separate days. We hope you're planning on moving into one of our Luxury Apts in Williamsville, NY soon! Thanks for reading today's post.