Luxury Apts WNY Win Awards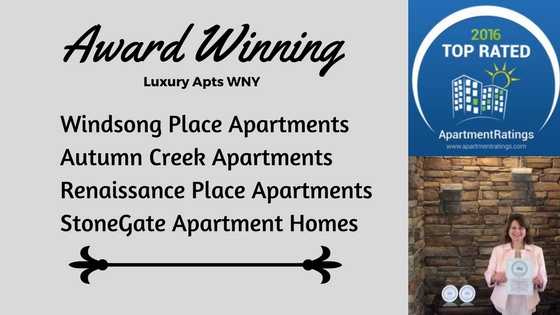 Receiving an award for one of our apartments here in New York is a wonderful thing, but winning multiple awards is exceptional, and we're pleased to announce, that all four of our properties — Windsong Place, Autumn Creek Apartments, Renaissance Place Apartments, and StoneGate Apartment Homes — have all received the 2016 "Top Rated" Award by ApartmentRatings.com. This honor, places our four communities among the top 5% of listed apartments receiving good marks in all areas of customer satisfaction.
ApartmentRatings.com is "the largest online rating community for rental housing, reaching approximately 30% of apartment hunters nationwide, and is among the Top 5 most-visited apartment hunting sites in the world."* In other words, they know what to look for in customer satisfaction. The criteria used to rank the properties for the award includes the following:
— 10+ total reviews
— 5+ reviews in 2016
— Overall recommended score of 70% or greater.
In addition to each property receiving this award, StoneGate also came away with the coveted ORA (Online Rated Property) Award (for the second year in a row), marking this particular apartment community among the Elite 1% of properties in the nation for 2016. This is out of 63,000 properties that were surveyed by J Turner Research. This award was recognized by the Multifamily Executive website.
We are pleased with receiving these awards, but we feel that they are simply a reflection of the high caliber of people who call our Luxury Apts WNY communities, home. Thank you for being who you are: wonderful, individual, amazing residents. We will continue offering the services and amenities we've been recognized for with these awards. We couldn't have done it without you! Thanks for being a part of this exciting journey.
Next time our blog will focus on ways to add color to your apartment without the need for painting, so stay tuned and thanks for reading today's post.
*Information taken from the About page.